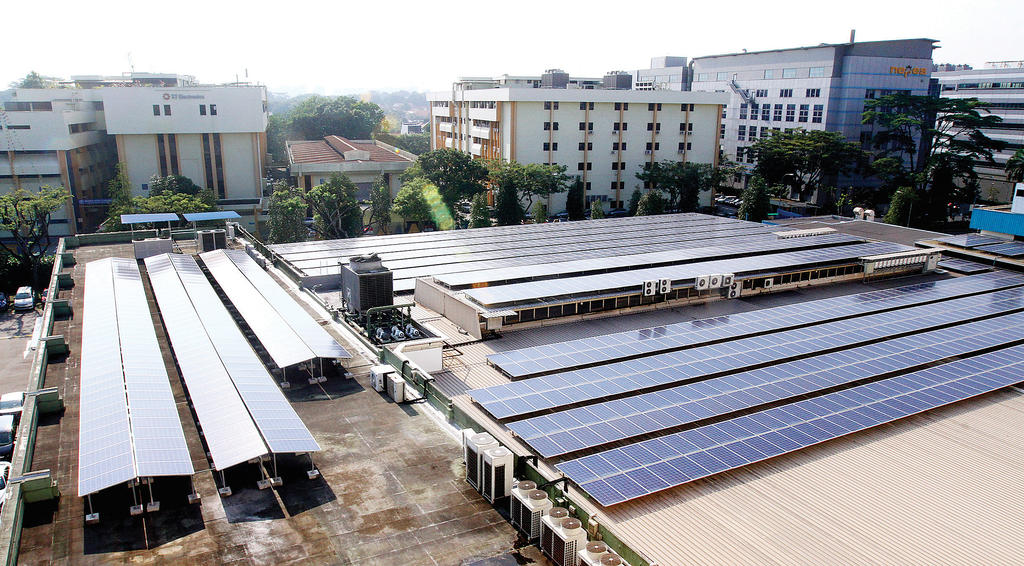 Solar panels at the top of a building at Ang Mo Kio Industrial Park. SolarPVExchange aims to tackle the high upfront costs of setting up a solar PV system. Today File Photo
By Siau Ming En / siaumingen@mediacorp.com.sg
August 23, 2014
Harnessing people power for solar energy
Local firm's initiative will link investors with building owners to fund photovoltaic systems.
Already gaining traction in the United States and Europe, a model of getting the public to collectively fund the installation of solar panels on private properties — for as little as S$10 in exchange for modest returns — is set to be launched in Singapore next month.
SolarPVExchange, a local website that links solar installation companies with potential customers, is launching a crowdsourcing initiative that will link investors with owners of residential and small commercial buildings to fund solar photovoltaic (PV) systems.
It is aimed at tackling the high upfront costs of setting up a solar PV system, which may be daunting to small property owners.
Speaking to TODAY, SolarPVExchange managing director Rob Khoo said many do not see the benefits of adopting this form of renewable energy as it takes years for owners of the solar PV systems to recover the investment via cost savings.
"Rather than (making) people pay huge upfront costs … you don't have to pay a single cent and you (can) continue to make savings (in your) monthly electricity bill," he said. "At the end of 20 years, or even before that, the system is all yours."
The company's website currently serves as a platform for solar installation companies to submit price quotations for projects submitted by property owners. Since its launch in June, the firm has seen about 60 interested parties and, among them, about half were seeking quotations.
Under the new crowdsourcing model, residential and small commercial building owners will first obtain a Sun Quote, or price quotation, for a solar PV system. Next, they have to determine how much they hope to save on their electricity bill. This, together with other factors such as how efficiently the solar PV system installed generates electricity, affects how much investors earn.
After the company calculates the estimated rate of return over 20 years, property owners will be able to put the project — which is expected to cost between S$10,000 and S$2 million — up for crowdsourcing on a website to be launched by SolarPVExchange.
Building owners have up to 60 days to raise the full amount, failing which the project will be scrapped. If successful, they will pay SolarPVExchange an agreed-upon sum each month for 20 years. The company then pays to investors the monies collated on a yearly basis.
At the end of 20 years, investors would have earned back their investment plus at least an internal rate of return of 5 per cent, while building owners would have full ownership of the solar PV systems. On months when building owners save more on their electricity bills thanks to "bumper" amounts of solar power generated, they can pay SolarPVExchange an additional amount, thereby shortening their tenure.
With this model, Mr Khoo said investors could start to see profits after about five to eight years for small commercial buildings, or about eight to 15 years for residences.
In the US and Europe, crowdsourcing models for solar panels have seen a promising response. Among them is one offered by California-based Mosaic, introduced early last year. Individuals can participate in its solar projects with a minimum of US$25 (S$31), for returns of about 4.5 per cent. To date, the firm has facilitated about US$9 million in investments, figures on its website showed.
Professor Subodh Mhaisalkar, executive director of the Energy Research Institute at Nanyang Technological University (ERI@N), said the upfront capital investment needed remains a major hurdle. As such, innovative business models, such as solar leasing, can help drive growth in the industry, he said.
"Crowdsourcing promises to be yet another exciting business model where the investors have the opportunity to (get) higher returns than many investments and also get buoyed by the 'feel good' factor of supporting environmentally-friendly solutions using solar PV," he added.
But Mr Nilesh Jadhav, programme director at ERI@N, said investors have to exercise due diligence. For example, they need to consider the quality, location and size of the installations, which could affect the efficiency of the systems. They should also check whether warranties, maintenance costs and insurance are covered by suppliers, as it could result in escalated costs for the project and affect the returns.
Mr Nilesh also said the crowdsourcing model would be more suited for smaller solar PV projects — such as on the rooftops of private homes or smaller establishments — as it could be difficult to raise larger amounts through crowdsourcing.
When contacted, the Energy Market Authority said as solar deployment increases here, Singapore may see new technologies and business models evolve.
The authority added that it welcomes industry-driven initiatives that facilitate the deployment of solar energy in Singapore.
Original Source: www.todayonline.com/singapore/harnessing-people-power-solar-energy-0?singlepage=true