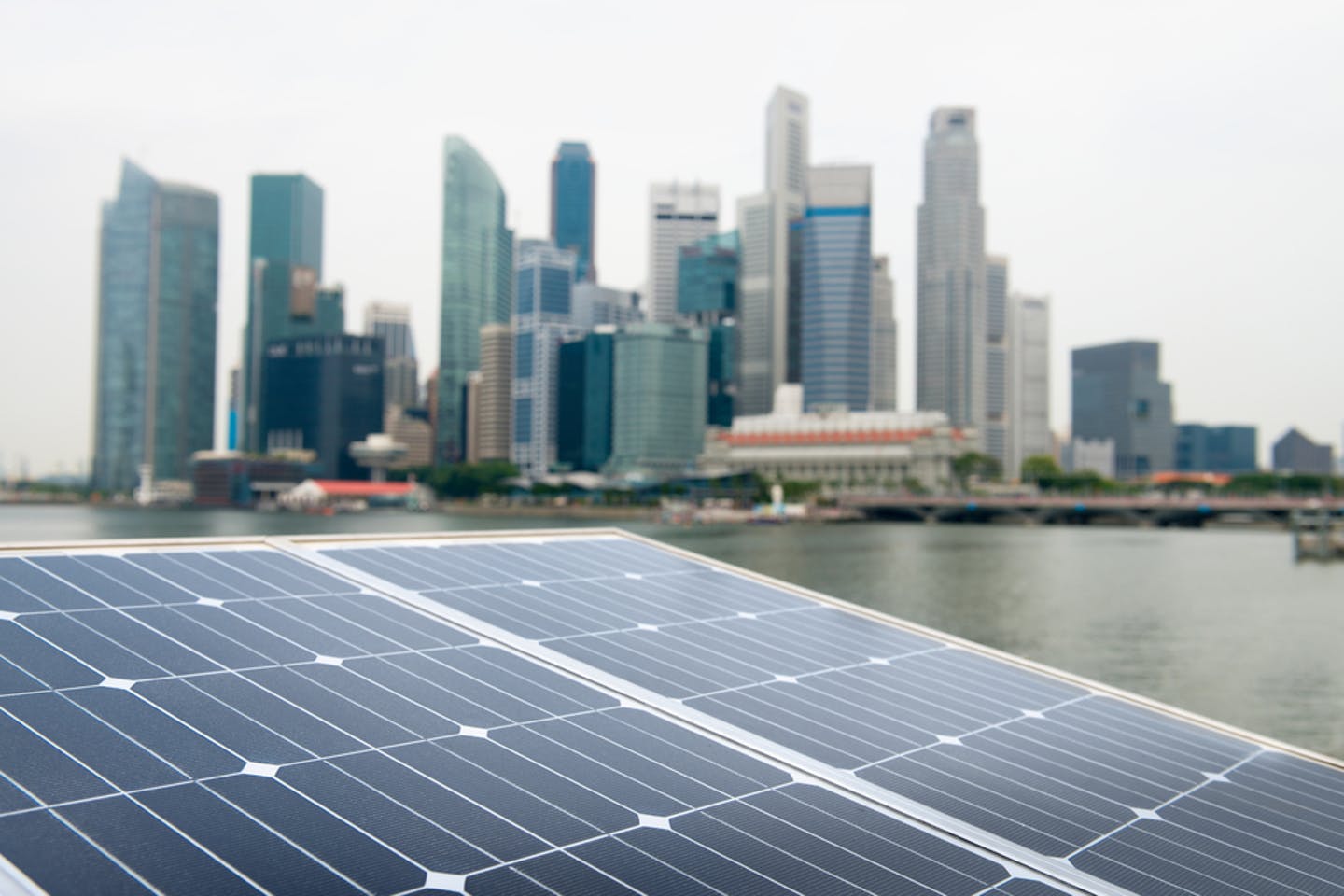 The newly launched Solar MarketPlace will connect homeowners and businesses looking to install solar panels with vendors via an online portal, making the process of adopting solar solutions much easier. Image: Iryna Rasko / Shutterstock.com
By Vaidehi Shah
June 25, 2014
Online shopping for solar comes to Asia
Homeowners and business operators in Singapore and Malaysia can now shop for solar power online with a newly-launched website that aims to matchmake solar firms with their customers.
Singapore-based start-up SolarPVExchange on Thursday launched an online solar marketplace platform in the two neighbouring countries. The website, called SolarPVExchange, connects potential buyers and solar vendors with one another, and provides digital tools that make it easier for buyers to estimate the cost of a project and the savings they can expect.
Potential buyers can use 'SunQuote', a tool developed with Google Maps by SolarPVExchange, to estimate the cost of installing PV panels on their property.
Users can demarcate their roof area on an online map, and enter information such as the amount of shade that falls on the roof and electricity bills. The system makes calculations based on a preset algorithm and generates a comprehensive report outlining estimated installation costs, and potential electricity and carbon dioxide savings.
The estimates generated by SunQuote, says SolarPVExchange, tend to be conservative; "in most cases the actual prices will be lower and savings will be higher", they said.
Once a buyer has put up a PV installation project on the portal, installers can submit quotes online, a simple process that SolarPVExchange says is welcomed by solar providers. The providers are also subject to customer reviews, a move that the company says increases the credibility of the portal.
After comparing the free quotations, users can decide on a preferred installer, which then kick-starts the process of installing the PV panels on their property.
Solar 'crowd-leasing'
To address the economic viability of solar panels, SolarPVExchange told Eco-Business it is currently studying how to pull together homes or business owners to lease panels. "This may ease the financial burden on home or business owners to make an upfront lump sum payment to acquire the panels", they added.
Rob Khoo, SolarPVExchange's managing director said that the online platform was an important step in dispelling misconceptions about the cost and inconvenience associated with PV installations.
"The adoption of solar PV for landed homes is incredibly low right now, mainly due to false perceptions about high installation costs and low return on investments", said Khoo. "This is no longer true today".
"The problem lies with the general apathy towards thinking about installing a new solar PV system. We have created a platform designed for all the installers to engage with [buyers], enabling open competition, awareness, convenience, transparency and accurate information", he added.
Frank Phuan, director and co-founder of local solar firm Sunseap Leasing, was optimistic about the impact of the launch of the online marketplace on Singapore's solar industry.
"The SolarPVExchange is a free tool for anyone to design their solar system for their own rooftop and estimate the costs of installation using SunQuote. It's great that it is trying to educate the public on an issue that is quite distant for most people, and make it much more accessible", he said.
"By facilitating a matchmaking process between the installer and homeowner, it will get more people interested in solar. This spells more business for all solar companies in Singapore, including Sunseap Leasing", he added.
Khoo told Eco-Business that there are plans in the pipelines to expandSolarPVExchange's presence as Asia Pacific's biggest marketplace.
"In Singapore alone, which is considered small by most standards, despite the low adoption rate, almost all the 20 installers have signed up to our Exchange", said Khoo.
"We have since visited neighbouring countries including Australia and have begun signing up Installers to the platform, essentially replicating the model", he shared.
Original Source: www.eco-business.com/news/online-shopping-solar-comes-asia/