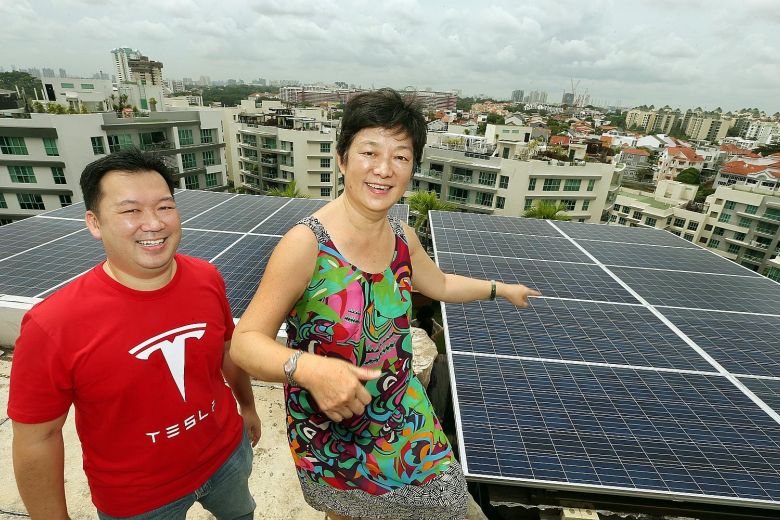 Mrs Pho Hong Ling, 61, and her son Robin on the rooftop of her penthouse condominium in Bukit Timah
where 20 solar panels have been installed, generating about 20 kilowatt hours of energy a day.
Mr Pho estimates this will help cut about half of the monthly electricity bill of about $190.ST PHOTO: LAU FOOK KONG
By Carolyn Khew
October 17, 2016
Bukit Timah penthouse gets power from the sun
Walking On Sunshine – so the popular song goes.
Housewife Pho Hong Ling's home in Bukit Timah runs on sunshine.
Three weeks ago, her son Robin Pho, 37, had solar panels installed in her penthouse condominium.
It was something that Mr Pho had wanted to do for a long time. But having to fork out tens of thousands of dollars for solar panels at a go stood in the way.
And so when he came to know of a crowdfunding initiative by Singapore-based solar consultancy firm SolarPVExchange, Mr Pho jumped at the opportunity.
The scheme is a win-win for both home owners and "green investors" who put in money to crowdfund the solar projects. Home owners get to tap renewable energy by paying via monthly instalments. Those who crowdfund get a 7 per cent return when the full amount is repaid.
Costing about $22,000 in all, the solar panels at Mrs Pho's home generate about 20 kilowatt hours of electricity a day and is used to power the Wi-Fi router, fans and computers, among other devices.
"The scheme allows me to pay for my solar project via instalments, which is helpful on the cash flow," said Mr Pho.
While he has yet to receive his monthly electricity bill, he estimates that solar energy will help to cut about half of the monthly electricity bill, which usually runs to about $190.
Should there be excess solar energy which can be exported back to the grid, he will also receive payment from SP Services by way of credit adjustment to the monthly electricity bill.
"I wish I had done this earlier," said Mr Pho, who is the group chief executive of a family business which looks at supplying manpower to the oil and gas industry.
"The solar panels double as a canopy and is a great talking point when family and friends come over to hang out."
Original Source: www.straitstimes.com/singapore/environment/bukit-timah-penthouse-gets-power-from-the-sun